ANIMALS AND FRIENDS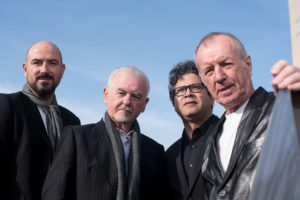 John Steel, Mickey Gallagher along with Danny Handley and Roberto Ruiz. The band that shook the world back in 1964 have re-invented themselves… quality and distinct sound that was, and still is, The Animals…"
Barry Kirk, Romford Recorder
The enduring influence and breadth of appeal of Animals & Friends and The Animals' music in 2010 – The Animals' 1964 debut was recently included in CLASSIC ROCK magazines' '50 Albums That Built Blues Rock '.
The band have embarked on over a dozen massive UK tours with Special Guests including Spencer Davis, Stax, Booker T & The MGS and Blues Brothers guitar legend Steve Cropper, Maggie Bell (Stone The Crows) and the late, great Mick Green (The Pirates, Van Morrison, Paul McCartney, Bryan Ferry) – which were the last shows by the guitarist viewed by many as one of the most influential in music.
Animals & Friends remain a seminal rhythm & blues band who still command great respect internationally amongst their peers as well as from fans of all ages who instinctively respond so enthusiastically to such pivotal songs from The Animals' catalogue such as 'We Gotta Get Out Of This Place', 'Boom Boom', 'Don't Let Me Be Misunderstood', 'Baby, Let Me Take You Home', 'I Put A Spell On You' and the bands' multi-million selling anthem and Number One hit across the world – 'House of The Rising Sun'.
THE HISTORY BIT
In 1964 a wave of new energetic rock and roll swept over the youth of the world. On the crest of this wave was The Beatles, The Rolling Stones and of course The Animals. From the banks of the River Tyne came the North East's offering; a brand of rhythm n blues that the whole world seemed to grasp greedily.
​
Back in 1957 John Steel along with fellow Animals co-founder Eric Burdon began playing their trade in and around their native Tyneside with not the slightest inking that they would – in a very few years – find themselves part of a group that would be forever bracketed with the very best of British music – The Beatles, The Rolling Stones and The Yardbirds – and respected all over the world. The Animals were also be the second British band after The Beatles to top the American charts with their multi-million selling anthem, 'House of The Rising Sun'.
Let us not forget that it was Bob Dylan's 'House of the Rising Sun' that so inspired this legendary band to record what history has shown to be the definitive take. It is even whispered that Dylan looked to their version as inspiration for his infamous 'going electric'.
​
Bruce Springsteen recently revealed on stage in the USA that it was The Animals, not The Beatles or The Stones who were his favourite British Invasion band. " Their singles were the first full-blown class-consciousness I'd ever heard". After playing a short burst of 'We Gotta Get Out Of This Place', Springsteen then confessed: "That's every song I've ever written. 'Born To Run', 'Born In The USA', all of them".
​
After 50 years, the legend still grows…